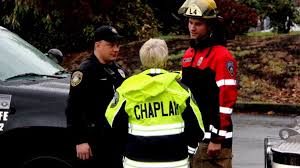 Chaplains provide spiritual and personal counseling to firefighters and other department members. Some Chaplains work a set schedule but are usually available at any time, even weekends and holy days. A fire department may also loan its Chaplain to other emergency medical services providers or to the local police department. Chaplains usually do not take confession or offer last rites, but they can talk to fire department personnel about things that are bothering them. Also, chaplains can offer marriage counseling to fire department staff members and their spouses or fiances, grief counseling to the families of firefighters killed in the line of duty and are trained in Critical Incident Stress Management. A fire department may ask its Chaplain to conduct funerals or memorial services, especially if the firefighter does not have a pastor. A Chaplain can also officiate at a wedding and some chaplains represent their fire departments at community events. They may serve on community boards, join local ministerial associations and speak at events and civic organizations. Chaplains create a bridge between the department and the community or communities it serves.
Fire Department Chief Officers who wish to receive information on the work of a Department Chaplain, request assistance in locating a Chaplain to serve their Department, would like to arrange for a presentation on the Ministry of a Fire Chaplain or Clergy currently serving as Chaplains, would like to serve or who desire information about joining the Corps should contact the Chief Chaplain, The Rev. Bruce Arbour at THIS EMAIL ADDRESS:
---
CLICK HERE FOR HARRIS CONFERENCE REGISTRATION
Conference, and Banquet: Members $50
Non-Members $150
Conference, Banquet, and *Accommodations Tuesday Evening Members $ 100
Banquet Only (includes meeting) $30
CLICK HERE FOR A 2023-2024 DUES INVOICE!
Annual Dues: $100
CLICK HERE TO PAY BY PAYPAL 
Or Snail Mail a Check with the Dues Invoice to:
Chaplain Joe Eiduson
Treasurer, MCFC
5 Cirrus Drive #5102
Ashland, MA 01721-4453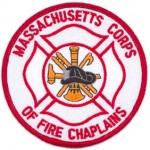 ---
On-Line Resources
New Member Application Click Here
Introduction to Fire Chaplaincy

 

Click Here
Generic Standard Operating Guidelines (SOGs) for Chaplains

 

Click Here
---
CLICK HERE TO DOWNLOAD THE MCFC OFFICIAL HANDBOOK!
---
Massachusetts Department of Fire Services Click Here
Fire Chief's Association of Massachusetts Click Here
National Incident Management Systems Training Click Here
Critical Incident Stress Management Website Click Here
Federation of Fire Chaplains Click Here
Professional Fire Fighters of Massachusetts Click Here
Massachusetts Call/Volunteer Firefighters Association Click Here
Commonwealth of Massachusetts Scanner Frequencies Click Here
Firehouse.com Click Here
Information for Firefighters about Asbestos Exposure